Riveted joints are form-fitted joints used to fasten individual components by using cylindrical malleable parts called rivets. Unlike bolted joints, rivet joints are permanent.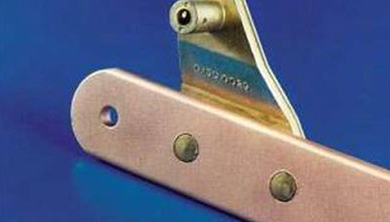 Cold riveted sheet metal parts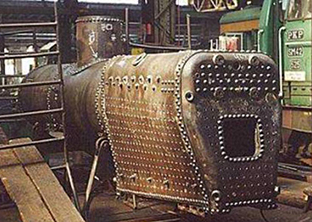 Steam boiler of an engine, hot riveted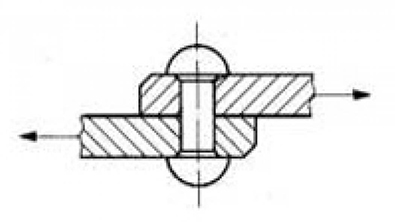 Like pins, rivets are mainly subjected to shear forces. If they have strong heads on both ends, they can absorb limited tensile loads as well.
Riveting is a very old form of fastening and was used long before bolted joints.
The joints are very secure and will not loosen even if subject to intense, cyclic loads.
It is unthinkable, that the Knight Kunibert's armor would have fallen apart… in battle!!!
Detailed information regarding rivet joints is found in the following chapters – not necessarily more about the knight's armor.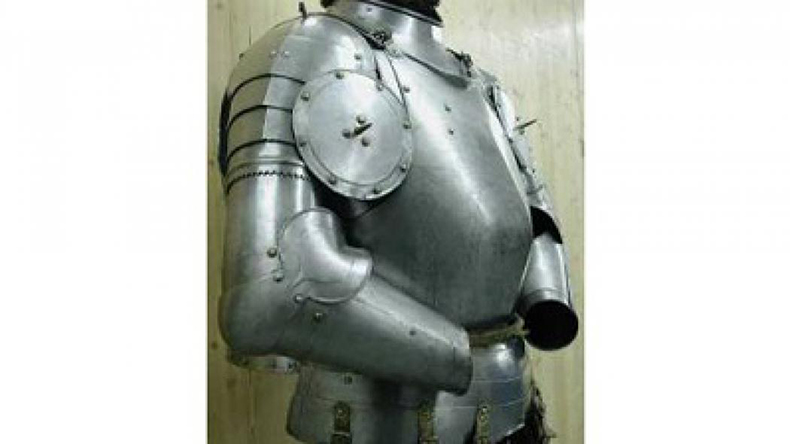 Knight Kunibert's riveted armor
There are steel rivets and nonferrous rivets.
If at all possible the rivet material must be compatible with the work pieces material or else there is a possibility of galvanic corrosion – See Galvanic Corrosion.
In steel structures, welded or bolted joints frequently have replaced riveted joints. Welded joints are permanent joints also, even more so then riveted joints:
Advantages of riveted joints:
No unfavorable influence of intense welding heat.
Special rivets can easily be installed on the construction site.
Have advantages in lightweight designs, especially for thin and high-strength sheets.
Different types of materials can be fastened.
Disadvantages of riveted joints:
The individual components are weakened by the "rivet holes". The work pieces must overlap or else they will need additional brackets.
Higher weight of the structures.
The riveted heads make the surfaces uneven.
Installing regular rivet is very time consuming.
Apart from the solid rivets there are other common types of rivets available. However, almost all of them are used in applications involving sheet metal. They are not suitable for steel structures, etc.
Compression rivets only hold the parts together. They cannot support heavy-duty loads.
Semitubular rivets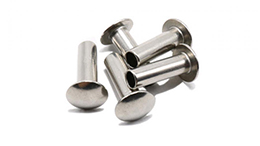 Compression rivets, two part rivets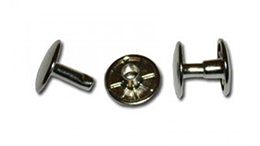 Blind rivets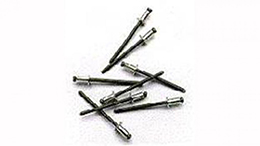 All these rivets have certain advantages over solid rivets:
Semitubular rivets are lighter and can be riveted applying low pressure.
Compression rivets in two parts are very light; they can be assembled easily with either a hammer or a small press. Hence, creating a permanent joint. They are often found on pieces of clothing, belts, etc.
Blind rivets: A hi-tech product for fastening sheets. Common types of rivets require tool access from both sides, not so blind rivets. They can be installed from one side.
Nowadays, blind rivets are frequently used to fastened sheet metal parts.
In an effort to come up with even more cost efficient fastening methods, new riveting techniques are continuously developed.
The TOX- method is definitely a very cost efficient type of fastening. Rivets are no longer necessary. The sheet metal parts are directly riveted to each other.
TOX sheet metal joint: Principle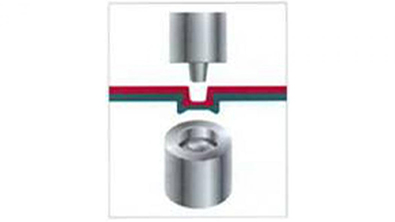 Sheet metal: all riveted joints are Toxed