156 man-days per year saved with one optimized fastener
Customer and task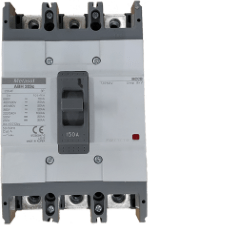 A leading provider of smart power transmissions, distribution systems and smart industrial automation solutions who manufactures in Korea, China and Vietnam is a valued customer of Bossard Korea. This company specializes in the production of Molded Case Circuit Breakers (MCCB). Their promise of providing world-class circuit breakers was at stake due to several assembly and quality issues, resulting in a risk of short circuits caused by loosening and corrosion.
The customer used a screw made of zinc plated 8.8 steel with an integrated spring lock washer of the same quality (SHCS SEMS Screw). A close look from the Bossard engineers brought the following issues to light:
Loosening: The DIN127 washer is not a suitable counterpart for a property class 8.8 screw.
Hydrogen embrittlement: Zinc plating involved the risk of brittle fractures.
Rust: Zinc plating was not the optimal surface treatment to prevent corrosion.
Jamming: Assembly problems occurred when the spring lock washer got jammed with the thread of the screw.
Material fatigue: In the long term, the interaction of the washer with the screw head could cause the breaking of the screw head.
Solution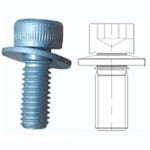 The solution provided by Bossard Korea was a fastening element with multiple adaptions:
The spring lock washer was replaced by a rip-lock washer. The fastener no longer loosens.
The zinc plating surface treatment was replaced with a zinc flake coating, resulting in improved corrosion prevention and no more hydrogen embrittlement issues
A ring was added to the shaft of the screw to prevent the washer jamming with the thread.
At the touch points of the screw shaft and head an undercut was added to better distribute stress, thus lowering material fatigue risks.
The new solution was thoroughly tested in the customer's testing environment and at the Bossard test center to meet the anti-loosening IEC60068-2-6 standard.
Customer benefits
The result was obvious: The improved product quality led to higher product lifetime and fewer end-user complaints. Nonconformance reports (NCR) could be reduced from 6 NCR/day to 0 NCR/day. With an average duration of 30 min/day for the 6 downtimes and an assembly line with 10 workers, this sums up to about 156 man-days saved per year.. In addition to that 2 quality inspectors could be reallocated.
The bottom line is a TCO saving of over 30%, compared to the situation before.