Digitizing assembly increases process reliability and productivity, which reduces production costs in your manufacturing. Smart Factory Assembly ensures optimal process control in manual assembly.
5 advantages of Smart Factory Assembly

Ensure High quality
Standardized workflows, up-to-date documentation, and connected devices ensure consistently high quality.

Increase Productivity
Simplify on boarding for new employees and high efficiency through standardized processes.
Create Transparency and Traceability
Data ensures maximum transparency and traceability of production processes. Quality data is stored and process improvements can be made at any time.

Maximum Flexibility
Digital work instructions enable flexibility at different workplaces. The interconnection of all common production equipment drastically reduces changeover times.

Achieve Automation
The digitization of workflows automates process steps and increases process repeatability.
CLICK ON the image below to see the portfolio.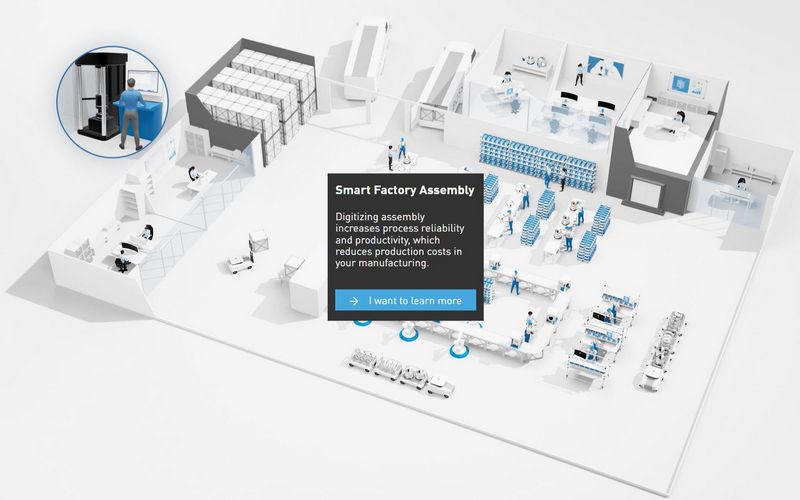 The path to Factory 4.0 with these core components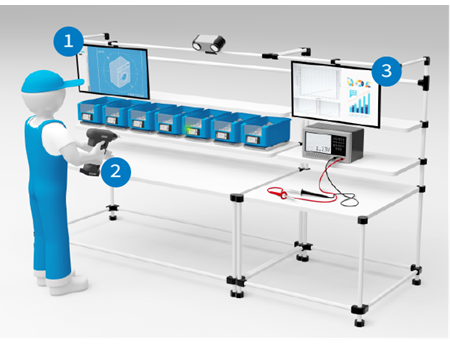 Digital and interactive work instructions: The centrally editable and adaptable work instructions simplify variant management significantly. The assembly worker is guided through the assembly process and work steps are automatically documented.

Connected smart tools and devices: With Smart Factory Assembly, all relevant assembly tools such as intelligent screwdrivers, pick-to-light, presses or measuring equipment are connected and can interact with the system.

Traceability of quality data and continuous process improvement: The production data is traceable at product / order level and and the relevant production data can be reviewed at any time. The gained transparency about the assembly process allows for simple and quick analyses and fast improvement implementation.