Flex Preferred Supplier Award 2017
June 14, 2017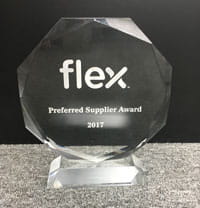 Bossard and Aero-Space Southwest Inc. honored with the 2017 Flex Preferred Supplier Award
Bossard and Aero-Space Southwest Inc. were one of the preferred suppliers at this year's Flex Global Supplier Summit in Milpitas in the heart of Silicon Valley. This award recognizes outstanding performance, strategic value-add, excellent service, innovation and collaboration.
Of more than 14,000 global suppliers, Flex invited only 150 to the 2017 Flex Global Supplier Summit held at their facility in Milpitas, California on May 31, 2017.
The summit was well organized and Flex top management including their CEO Mike McNamara gave speech. The key message delivered to all participants is that Flex is moving into Innovative Engineering Intelligence company. Sketch-to-scale is the key word of the company supported by 20 defined goals by 2020. We are proud that Bossard's Asia Pacific Group as well as Aerospace Southwest were invited to this special event.
Headquartered in Singapore, Flex is the second largest Electronics Manufacturing Services (EMS) company and Original Design Manufacturer (ODM) in the world, with more than 200,000 professionals across 30 countries. Flex provides innovative technological solutions for different companies, industries and end markets, and builds Intelligent Products for a Connected World™.
Flex procurement and supply chain professionals and employees in various business groups selected 150 preferred suppliers. We are proud to be one of them and appreciate this great award.