Best Lightweight Solutions Innovation Award for Bossard China
May 24, 2018
Bossard China honored with the "Best Lightweight Solutions Innovation Award" at the 8th China International New Energy Vehicle Forum 2018.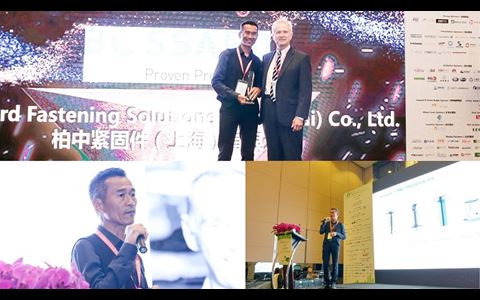 May 17-18, 2018. Nearly 800 professionals including vehicle manufactures, electric control companies, battery manufactures, component suppliers, core technology providers and government agencies from around the world attended the forum, discussed the challenges, opportunities and countermeasures in depth and constructively.
Since the weight of the car has a direct impact on its fuel efficiency, the automotive industry seeks advanced materials and technology to reduce vehicle weight. However, traditional fastening solutions are difficult to use with new materials. Bossard's regional engineering & business development manager spoke about lightweight fastening solutions bigHead® Lean Bonding & ecosyn BCT®. These solutions won "Best Lightweight Solutions Innovation Award."
For more about the lightweight fastener solutions, welcome you contact us.