EXCHAiNGE Smart Supply Chain Solution Award 2018
November 23, 2018
Bossard honoured with a certificate for Smart Supply Chain Solution Award 2018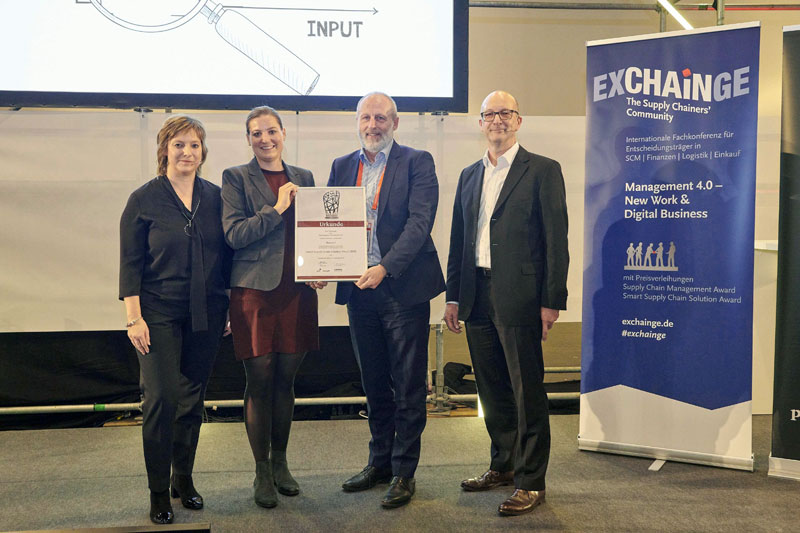 The Smart Supply Chain Solution Award is a special prize for innovative concepts that demonstrate the potential to fundamentally transform traditional value chains.
After Bossard had already made it into the top 3 finalists, each finalist had to present their supply chain solution at the EXCHAiNGE Supply Chainers' Conference. 200 decision makers from Supply Chain Management, Finance, Logistics and Purchasing were on site.
The awards ceremony took place on the 21st of November, 2018, at the Hypermotion trade show at Messe Frankfurt, Germany.
With the Smart Factory Logistics solution: "Last Mile Management" for optimizing materials management, Bossard competed for this year's most innovative supply chain solution.
Last Mile Management is a simple solution that optimizes the material flow in the production area. With the help of Last Mile Management, the milk run or waterspider gets full support by efficiently carrying out his material flow in a time-saving manner.
The jury of experts from the worlds of business, research, consulting and journalism as well as the audience awarded Bossard with a certificate for convincing performance as a finalist in the competition of this year's Smart Supply Chain Solution Award!
Bossard congratulates the winner of this year's award "Instafreight". It can be said, that Bossard is proud to have reached the top 3, which is a great recognition for Smart Factory Logistics.
More information: www.exchainge.de/en/award/index.php