Ridurre l'impatto ambientale
Bossard will continue to expand in the coming years. Global growth not only harbors great opportunities but also certain risks. Integrating new locations and expanding the supplier network present challenges, especially for sustainability. According to our Supplier Code of Conduct, our suppliers are required to verify a high degree of environmental protection in their procurement, manufacturing, and transport activities or to guarantee compliance with internationally recognized environmental management systems.
Through that, we can use our international network to raise awareness about environmental issues and the consequences of climate change among even more stakeholders. Concerning future internal investment processes, Bossard will place even greater emphasis on qualitative as well as quantitative sustainability aspects. Our Group should grow in line with our sustainability efforts and strengthen our four focus areas.
Packaging
Energy efficiency
Blue Hearts Embassy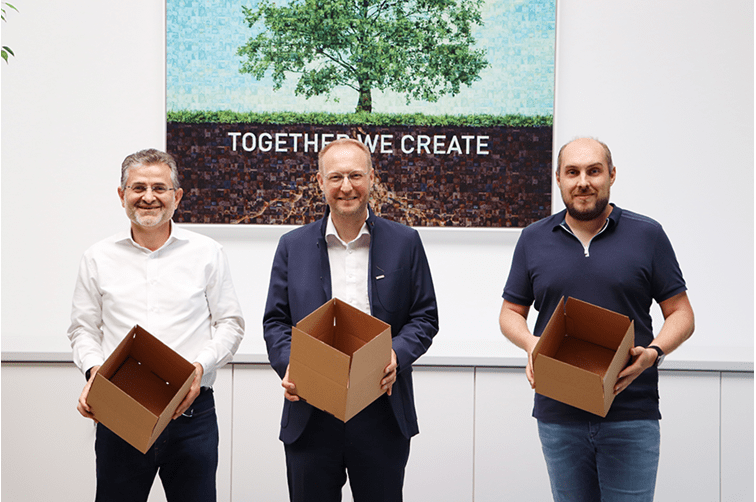 Waste Management: the new cardboard boxes with increased recycled content
Bossard promotes circular economy to reduce its resource and materials consumption and minimizes waste. Alongside the Group's work to cut emissions, the circular economy mitigates negative impacts on the environment. Most waste is generated on the supply side of Bossard's value chain in the manufacturing of its products. Through innovation, the Group is positively contributing to its suppliers' waste reduction efforts and benefiting its customers.
As a distributor, Bossard relies on efficient and secure packaging to meet the requirements of its customers. By starting a group-wide project, the Group strives to sustainably improve packaging and the respective processes. Bossard Germany has made its packaging more sustainable, which has a substantial impact due to the large warehouse in Illerrieden. By increasing the recycled content of cardboard to at least 86 percent across all sizes and the content of re-granulated raw material to almost 100 percent for the new flat bags, more than 1.1 tons of CO2 can be saved per year. This switch was even cost-neutral. In addition, Bossard Germany is also considering changes in stretch films and filling paper in order to be able to reduce even more carbon emissions.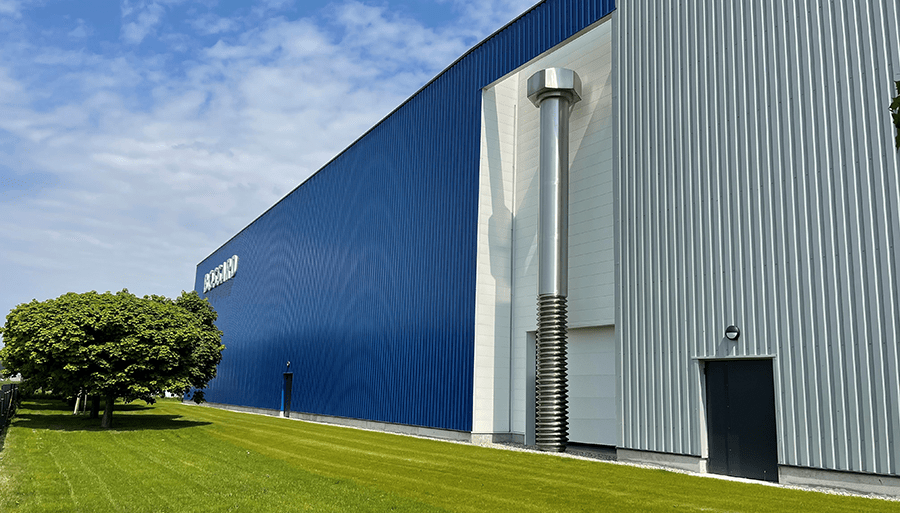 Increase in energy efficiency and productivity in Bossard France's warehouse
In 2022, Bossard France finished renovating its warehouse. Actions included the extension of the warehouse area from 4,500 m2 to 10,700 m2 , more efficient heating, better insulation, an optimized logistics flow as well as the installation of LED lights. As a result, energy efficiency has increased. Although the warehouse has more than doubled in size, the energy consumption has only changed insignificantly (1,100 MWh/year compared to 1,000 MWh/year before renovation and extension). In addition, warehouse productivity increased because of an improved logistic flow while employee satisfaction was also improved due to better insulation. A newly acquired cardboard baler also leads to higher recycling rates. Going forward, Bossard France plans to install solar panels on the roof of the warehouse.
Bossard takes its environmental responsibilities seriously not only to adhere to applicable laws and match customer needs, but to secure competitive advantage. Against rising prices, higher energy efficiency and wider renewable energy procurement to limit business costs is a necessity. This effort also reflects positively on the business' reputation. Moreover, climate protective practices lower the risk of environmental damage that may adversely impact Bossard's business activities. Specifically, Assembly Technology Expert and Smart Factory Logistics can lead to a more efficient use of fasteners and cut emissions in deliveries.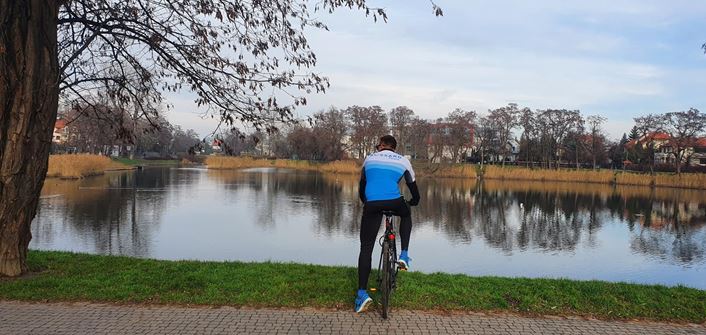 Community engagement: race kilometers to raise money
Bossard is committed to positively affecting the local communities in which it operates, most notably by promoting well-being and socio-economic development. The Group works with civil organizations to better engage on a community level and initiatives are pursued locally.
A special highlight of community engagement in 2022 is the Help for the Ukraine initiative. Started by Bossard Poland, useful donations were sent to selected organizations to support refugees in Poland and in the Ukraine. The entire Group joined the business units efforts. In addition, the Group launched in conjunction with Bossard Poland another initiative where colleagues could race kilometers to raise money. Altogether, more than 20,000 km were raced and CHF 100,000 collected and donated to the Hearty Foundation. The foundation creates a learning space for Ukrainian refugees in Poland. Bossard strongly believes that together with the Hearty Foundation the Group has created a comprehensive project that is strongly connected with its guiding principles and corporate values. Bossard places great emphasis on it and hopes it will improve the quality of life of Ukrainian refugees in Poland.