Loncin Success Story - Small Screws, Big Motorbike Dreams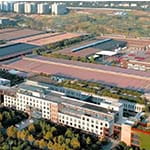 Small screws, big motorbike dreams. Bossard helped Loncin build the VOGE Promise series of motorbikes that are precisely crafted, down to even the smallest fasteners. As an early domestic motorcycle brand involved in the field of large-displacement motorcycles, Loncin Motorcycle, located in Chongqing, China, is gradually realizing a new product lineup pattern of multi-displacement, multi-platform, and multi-variety.
Its motorcycle and engine sales rank among the top in the industry. It sells well in more than 80 countries and regions around the world and has established a strategic partnership with BMW.
Challenges faced by Loncin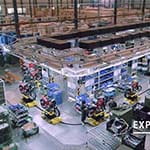 With the rise of locomotive culture, the demand for large-displacement motorcycles has become more and more vigorous, posing new challenges to the appearance, product quality and comprehensive performance of motorcycles. Loncin has strict control over product details, and higher and higher requirements for fastening connections.
Bossard Assembly Technology Expert help Loncin to solve the troubles of fasteners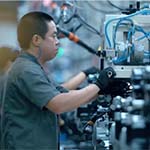 Bossard actively participates in the R&D of Loncin motorcycles, helps Loncin engineers to recommend and select suitable fastening solutions in the prototype stage, and confirms the functionality and safety of fasteners in a professional laboratory that has passed ISO 17025 certification. , such as the annual test of the friction coefficient of fasteners for a project, to confirm the consistency of the friction coefficient of different batches of fasteners, the reliability of motorcycle fastening connections and the stability of quality.
The changes and value brought by Bossard to Loncin
Faster time-to-market

Being first to market can certainly bring huge advantages. Loncin has handed over the fastening and connection issues to Bossard, thereby devoting more energy and time to product innovation, R&D and production, which greatly accelerates the time-to-market of new products.

Leaner production process:

As an enterprise that takes root of the concept of Industry 4.0, Loncin Motorcycle has invested in a number of intelligent assembly production lines, which puts forward higher requirements for the quality and management of B and C materials.

Higher quality and reliability:

Thanks to the strict requirements for quality and details, Loncin Motorcycle has been well received by the market. For the trivial matter of fasteners, Bossard provides Loncin with a complete fastening connection solution. Scheme, through strict design, verification and implementation of three stages to ensure the safety, functionality and high cost performance of the scheme.
Loncin Feedback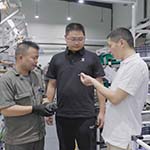 " Each Infinity Motorcycle is assembled from thousands of parts and takes hundreds of minutes to assemble. Such an efficient assembly operation not only requires high-quality components, but also requires superb fastening technology. We will fasten the connection. Hand it over to Baizhong, so as to devote more energy to the research and development of core components and build better domestic locomotives." said Mr. Teng Jinhang,

Minister of Quality Department

of Loncin.