Artificial Intelligence and Big Data: Real-time quality control of joining processes
The transport industry is in the midst of a massive transformation and the vehicles of the future are fundamentally different from those of the past. Evolutionary developments in the field of lightweight construction, but also disruptive trends such as electromobility or autonomous driving, confront automotive developers with a whole new set of challenges.
The Swiss start-up company MM-Welding has developed a fastening technology platform for lightweight und multi-material designs that combines the insights of AI with its unique fastening technology. The MM-Welding technology is an innovative fastening technology platform that uses ultrasonic energy to create a form-locked bond in various lightweight materials. With the help of its SmartSolutions software, the company can ensure complete quality control of the fastening process.
Our white paper provides comprehensive insights into:
The impact of change and the future of the transport industry
What influence does digitization have on joining processes?
Machine Learning - significance and benefits
SmartSolution Technology - Advantages for your company
Efficient joining of different materials
Cost reductions through automation of connection processes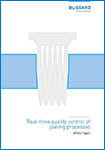 Download now your full white paper for free and discover more about the topic of real-time quality-control of joining processes.