Marking of screws and nuts (according to ISO 3506)
Download
526.3 KB
PDF
Download

Requirement
Screws and nuts made from stainless austenitic steels must be marked.
Caution
Only those fasteners marked to standard will have the desired properties. Products not marked to standard will often only correspond to property classes A2-50 or A4-50.
Screws
Hexagon head screws, and hexagon or hexalobular socket head cap screws from nominal diameter M5 must be marked. The marking must show the steel group, the property class and the manufacturer's mark.
Studbolts
Bolts from nominal diameter M6 must be marked on the unthreaded shank with the steel group, the property class and the manufacturer's mark. If marking on the on the unthreaded shank is not possible, marking on the nut-end of the stud with only the stainless steel group is allowed.

Hexagon screws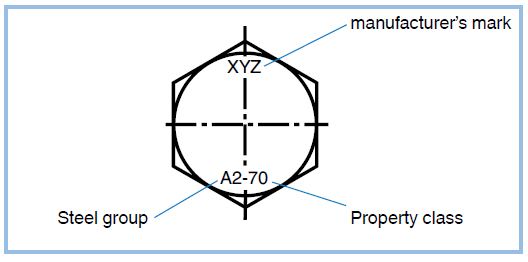 Socket head cap screws

Nuts
Nuts and nuts with reduced load bearing capacity (low nut) must be labeled with the steel group, strength class and origin mark from thread M5.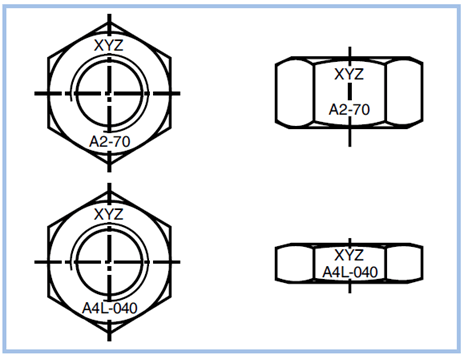 If the nuts of grades A2 and A4 are marked with grooves and the strength class is not specified, then the strength class 50 of 025 applies.
It is possible that certain nuts would not fulfil the proof load requirements because of fine pitch thread or the geometry of the nut. These nuts may be marked with the steel grade, but shall not be marked with the property class.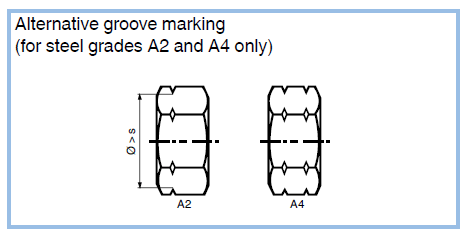 Other markings
Screws with reduced load bearing capacity due to the head or shaft design that can be subjected to a tensile test are to be labeled with the strength class by the supplementary number 0.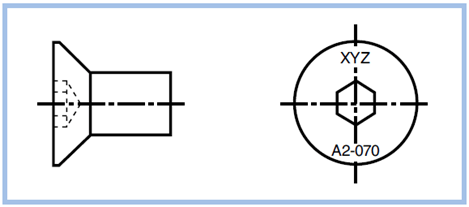 Screws that do not meet the requirements for tension and torsion strength due to their geometry and cannot be subject to a tensile test due to their short length may be labeled without the strength class.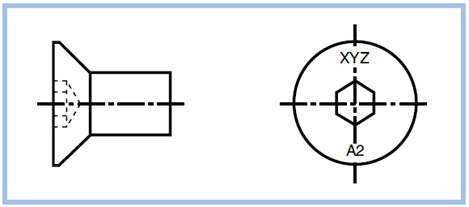 Other types of screws can be labelled in the same way where possible, but only on the head. Additional markings may be attached, provided this does not lead to confusion.