THE WORLD'S FIRST: Threaded lifting pins from Halder
Ball-lock pins and threaded lifting pins are quick and easy to use, robust load-bearing elements with which even heavy loads can be lifted quickly and safely. The tried-and-tested ball-lock pin is already well known and has proven itself many times over in industrial applications. The threaded lifting pin, on the other hand, is a real world's first: Only a suitable metric thread is required for the safe fastening in the workpiece.
Threaded lifting pin with rotating shackle
The rotating shackle always aligns itself in the direction of pull during lifting without the pin rotating. As a result, the load lifting device is not turned out of the thread and the component can be lifted safely.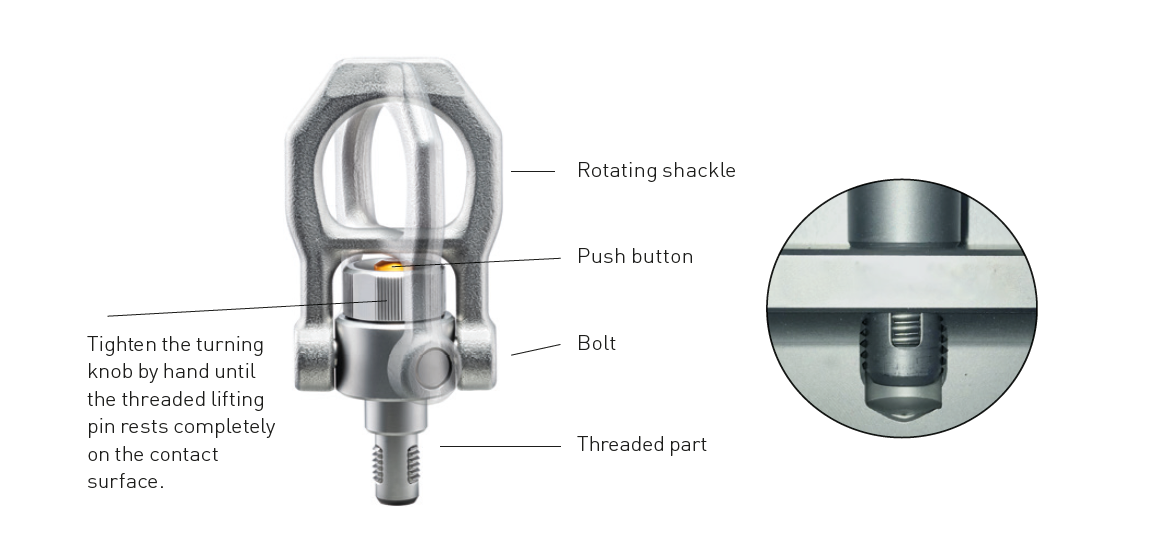 Assembly
Threaded studs for metric threads may be used in threads containing gauges.
Press in the button and keep it pressed.
Insert the threaded lifting pin.
Release button. (The knob must return to its initial position again.)
Turn the threaded lifting pin by hand until it rests fully on the contact surface.
Make sure that the threaded segments are engaged in the holding thread.
Disassembly
Turn the threaded support bolt counterclockwise by approx. a quarter of a turn.
Press in the button and keep it pressed.
Pull out the threaded lifting pin.
Release the button.
Your advantages

- Maximum bearing load 840 kg at M16
- Only one suitable thrad is required
- Easy assembly at the push of a button, without screwing in
- 85 % time savings during assembly and disassembly compared to eye bolts
- Easy to reuse
- Safely lift from various positions/angles
- Certified safety according to TÜV Süd (CE mark)
Safety first

The product and usage safety have been documented by TÜV Süd (CE mark).
Every single threaded lifting pin comes with operating instructions with the CE declaration of confirmity.
A safety bar prevents unintentional loosening.
There are two corrosion-protected designs.