NORD-LOCK® – Maximum security for bolted joints

The NORD-LOCK® bolt securing system utilizes tension instead of friction to secure critical joints exposed to vibration and dynamic loads.
Since the cam angle (alfa)
is larger than the thread pitch (beta)
any rotation of the bolt/nut is blocked
by the wedge effect of the cams.
The Junker vibration test complying to DIN 65151 is an excellent method for testing and comparing the security of bolted joints. The following diagram displays NORD-LOCK's superior performance in maintaining clamp load, and the unique wedge locking function of the NORD-LOCK washers is proven by the clear increase in clamp load during untightening.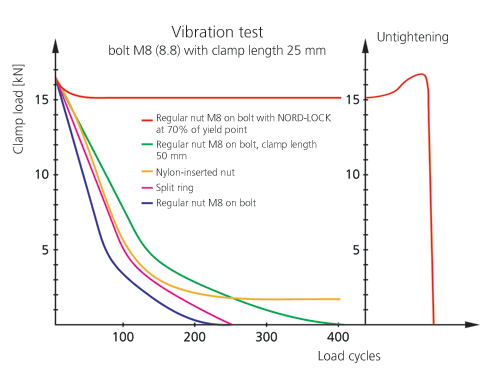 Advantages
Maximum safety
Resists loosening caused by vibration and dynamic loads
Ease of assembly and disassembly
Locking function is not affected by lubrication
Positive locking at low and high preload levels
Controllable preload
Same temperature characteristics as standard bolt/nut
Reusable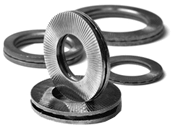 Product range
Steel washers, zinc flake coated with Delta Protekt©, M3 – M130 / #5 – 5"
Stainless steel washers, M3 – M80 / #5 – 3 1/8"
Special alloyed washers for high temperatures or highly corrosive environments (upon request)
Nord-Lock - Unsurpassed Safety
713.9 KB
PDF
Download